Post and Core
A post and core is a restoration that is commonly placed in the coronal portion of a tooth following root canal therapy. The purpose of the core is to replace the tooth structure that is removed to gain access to the root canal system in addition to any tooth structure that may be missing due to decay or previous restoration. The purpose of the post is to retain the core.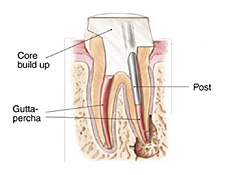 A post is cemented into a space that is prepared in the upper portion of the largest root canal of the tooth. This space is prepared by removing some of the gutta percha filling material and preparing the walls of the canal. The post provides resistance to lateral forces, such as those encountered during normal chewing.
The post and core restoration are often placed prior to restoration of a root canal treated tooth with a crown. The restoration may also be placed in an existing crown following root canal treatment if the prosthetic crown does not need to be replaced.